Just a few things I am thankful for today are...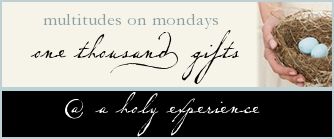 16. Sweet hearts and hands expressing themselves to the very grateful recipient :)
17.
"One Thousand Gifts"
meets
"Vintage Pearl."
I am thankful for a deeper study and understanding of "eucharisteo" and what it has meant to my life. I am thankful to have realized that it characterizes a circle of unending love and joy... from my Savior to me... and me back to Him.
18. For an amazing time in life that I haven't experienced very often... in which my kids want to eat, and eat, and eat some more... :)
19. Experiencing the fact that even at ages 6,7, and 8 as the kids read God's Word they learn... and it changes them... and they can share it with others.
20. For my little boy who is growing bigger and bigger every day. For his fascination for learning
everything,
for his sense of humor, for the way he looks after his younger siblings, for the way he so frequently says "Is there anything I can help you with Mommy?" without prompting, for his big ol' smile, and that when he gets laughing really
really
hard, he can hardly stay standing up straight ;)
21. That he's not too big to be a spy! (
all.the.time.)
22. For Sammy's (serious) injury-free streak of at least a few weeks now. (
just sayin.)
23. For the sun. For the fact that even if I only step outside to walk between buildings at work, the fresh air is great medicine for the next few hours indoors!
24. For my silly little boy who's expressions
always
make me laugh (even when I shouldn't), for his compassionate heart and love for others, for his sense of humor, for his love for God and his family, for his learning to read so well, and for a couple of weeks of finally receiving those stars for good behavior at school :) And on that note
I am also thankful for ice cream.
25. I am thankful for a little girl who's middle name is Grace... who's personality defines it so well. I am thankful for her sweet heart and her love of encouraging others. I'm thankful for her giggles with friends, hearing her read out loud to her stuffed animals for hours, the way she helps Sammy read, the way she likes to help me in the kitchen and playing the piano, and for her cute little face :)
26. The grill. Enough said.
27. For notes I find on my desk at work from sneaky little people I love :)
28. For a yard.
29. For kids who are the best of friends and love to play together.
30. For watching them grow and learn new things.
31. Above I showed a picture of the ring I ordered. For a year I've literally dreaded the thought of not wearing my wedding ring, not seeing it there. I haven't taken it off for almost 11 years... at all. I knew I needed to get a new ring, one that would stand for something, that would mean something... to fill that empty place. Finally I ordered the ring above (which I do really love) as a reminder of so many things. I love that it's a spinner ring (the middle part spins around) and gives me something to play with :) I discovered a problem when it arrived though... it's too big. And you know what I'm thankful for?
That I'm totally and completely ok with that.
It was such a relief to just not mind being... me... right where the Lord has me. That yes I will still wear my reminder of thanksgiving, grace, and love that always surrounds us, but I don't have to try to make my situation look different to others than it is. Because I'm following Jesus and because I'm His.
32. For the awareness that I'm surrounded by so many things to give thanks for I may never get it all done. No Greater Joy.