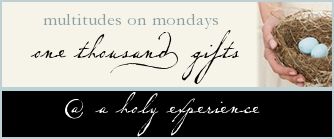 33. I am thankful for this beautiful phase in life for my kids who are too young to be reserved... and who really make me laugh.
Alot.
I am thankful for laughter. I am thoroughly convinced that God enjoys it too :)
34. I am so thankful for
Spring Break.
I am SO thankful for a couple of day trips to enjoy laughter and company of the best of friends.... and ice cream.
35. I'm amazed and
oh so thankful
for Sam's return of and growth in confidence in who the Lord made Him and how the Lord loves him. When I remember this time last year how he cried and was terrified of leaving my side... and the days and nights in prayer.. and the step by step way I've watched the Lord shepherd my children through what I could not, I am amazed and so, so thankful!
36. For
Spring Break.
Yes. I think I should get to say it again :) And also for a yard.
(yep. Said that again too.)
I am thankful for a day to play... in the yard.. and the sprinkler.. with my 3 favorite people.
37. I'm thankful for my beautiful mom.
38. For big eyes and the feeling of big hands holding mine, it's a strange thing that I always cherish... it's a strange thing and wonderful thing to realize how they are growing up.
39. For my wonderful sister in law and the celebration of her... ___ birthday where she turned... older.... ... ...
40. For the simple beautiful joy of being outside in God's creation. For watching Hannah be brave and also watching her freak out when slimy the fish got feisty. For first time experiences, and for friends.
41. I am thankful for the boy who I sometimes call "biggest"... or "George"... and I occasionally use his real name... who has been reading "Winnie the Pooh" to his siblings a chapter at a time of his own accord, who left a pink starburst under my pillow because they're my favorite, and who is so full of joy and contentment.
42. I'm so thankful for the joy and contentment that is the evidence of God.
43. I'm thankful that we're safe. No matter what. All the time. No matter the circumstance. That I serve a God who is always about the business of working all things together for the good. I'm thankful for each leg of our journey because I know who's leading us there. I'm thankful for what lies ahead. I'm just thankful. :)